Position:

FACYRE President and Hotel and Catering Businesswoman
Company:
El Quenco de Pepa - Chef & Owner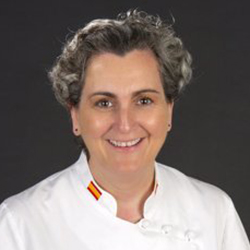 Pepa Muñoz, chef and co-owner of the restaurant El Qüenco de Pepa (2003) and President of FACYRE. She protects traditional cuisine, the seasons and the excellence of the product, controlling it from the source. Sustainability is a fundamental pillar of everything that surrounds her cuisine. Pepa's pantry is her own garden where she grows tomatoes from seeds that are more than 85 years old.